A visit to the Weymouth Sands of John Cowper Powys [ ⇒ continue... ]


Man is a link in a long spiral ascent, not a finality.
"COVE HOUSE"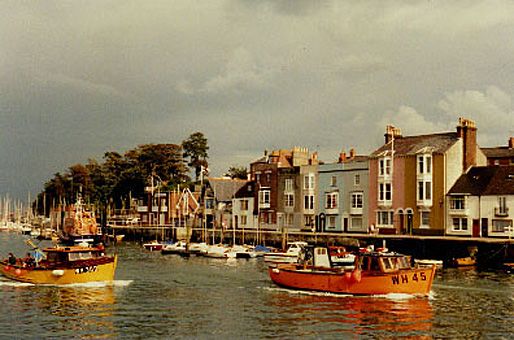 As he strode now along the esplanade he hitched up his thick woollen blue jersey from his hip and thrust his hand in his right pocket where his fingers closed over the smooth, hard surface of a large pebble-stone.(...)
As soon as he reached the harbour's edge the man turned to the left and followed the wharf in a seaward direction. He walked slowly and cautiously between the single lines of railway that brought travellers from the station to where the steamers docked.(...)
With his mariner's cap at the back of his head and his hands in his pockets the Jobber advanced with cautious strides. The wind blew against him wild and strong just hereand the harbour-tide at his feet was running out in gurgling darkness.(...)
He stopped before one of the oldest and smallest of the time-mellowed houses, looking on the harbour. The name "Cove House" was written in flourishing characters over its narrow doorway. There was a light in the window — a big bow-window from which it was possible to see the entrance of the harbour — and the Jobber had no sooner begun mounting the brick steps that led to the door than a muslin curtain was dropped down by a bony hand that had been holding it aside.