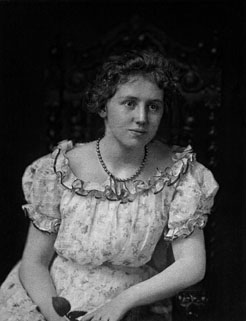 Alyse Gregory
(photo courtesy Hilary Henderson)
Alyse Gregory was not only Llewelyn Powys's wife. She had known a varied life before she met him, had accomplished much in the fields open to women at the time, had fought for their rights, had been Editor of the prestigious Dial for a few years until, Llewelyn wishing to go back to England in 1925, she had to abandon her career for his sake. And she was a writer of note.
Alyse was born on 19 July 1884 in Norwalk, Connecticut, in a family of old American stock. She was of a melancholy nature, inherited from her father, Dr James G. Gregory, loved nature and was early influenced by Emerson and Henry James, to be later followed by Dostoievsky, Walt Whitman and Proust. She soon came to quietly rebel against her family, especially her mother and brother, her milieu which was that of prosperous middle-class.

At fifteen she was sent to France to pursue her musical education for she had shown an early gift for singing. But when she returned from Europe after some frivolous years, her interest turned to social injustice. She started a women's suffrage club, and was asked to organise suffrage campaigns in New Jersey, which she did efficiently. After the First World War Alyse had to support herself. She found a position at a school for socialism, wrote for newspapers, then went to work for an organisation financed by the Carnegie Foundation, the aim of which was to help foreign communities preserve their culture and art. She met a great variety of people, including Tomas Masaryk, first president of Czecholslovakia, but also humble folk from Europe. Around 1911 she met a man who would have a great influence on her: Randolph Bourne. Bourne had joined the staff of The Dial and it was through him that Alyse met Scofield Thayer.
The adventure of The Dial, with Scofield Thayer and Sibley Watson at the helm, is now fairly well-known, thanks in particular to Nicholas Joost's remarkable books on the subject. Scofield had bought the old Transcendentalist magazine in 1919 and his fortune enabled him to become a patron of the arts, making of The Dial one of the most avant-garde literary magazines of the time. Thayer had asked Alyse many a time to come and work with them, but it was only in 1923 that she accepted the post of associate editor. Marianne Moore was later to evoke her "delicately lethal honesty", finding in it "something apart from the stodgy world of mere routine."
However the most significant outcome of her association with The Dial was meeting Llewelyn Powys. Llewelyn, who had lived in Africa during the war, had already had some stories published. But he was still a relatively unknown writer until 1921, when he was invited to meet the Editor of The Dial at her flat. As he was to write: "Coincident with my discovery of Patchin Place came the bettering of my fortunes". Through Alyse he met other editors and publishers and became thus better-known. Llewelyn was a handsome man, used to feminine conquests, but Alyse struck him with "her intellectual intensity". On 1 October 1924 they were married at Kingston, NY. Alyse was not sure she was doing the right thing, marriage was contrary to her feminist ideas. But she had a great sense of generosity and fair-play, which would be her rule in dealing with her husband's infidelities.
From there on and until Llewelyn's death in Switzerland in December 1939, Alyse shared his life, and became both his companion and his nurse, for ever since his youth he was plagued with tuberculosis. In May 1925 they left New York to come to England and from then on lived in a little house on the Dorset coast. Their life was relatively quiet, devoted to writing, reading, and walks along the lovely coast. For Alyse wrote too, as she would for the rest of her life.
After Llewelyn's death, Alyse was devastated but she tried to reconstruct her life, while continuing to live at Chydyok. She was devoted to her sisters-in-law as well as to Theodore and John Cowper, saw them often but she was above all a fairly independent and solitary person. The end of her life was tragic: she left Dorset for Devon to live with a friend but the scheme did not work out well. Alyse Gregory committed suicide on 27 August 1967.

Novels: She Shall Have Music (1926), King Log and Lady Lea (1929), Hester Craddock (1931)
Essays: Wheels on Gravel (1938)
Autobiography: The Day is Gone (1948), many articles and reviews in The Dial, the Adelphi and Horizon, and an unpublished Diary, with extracts in The Cry of a Gull, a compilation.

Further reading: J.Peltier, Alyse Gregory: A Woman at her Window, Cecil Woolf Publishers, London 1999.)