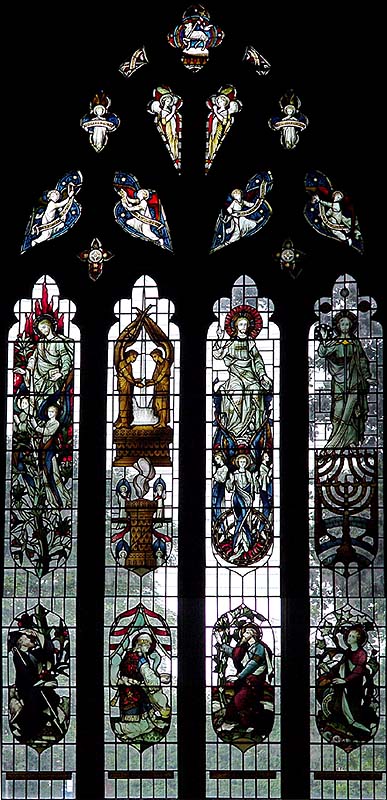 The Stained Glass of John Hardman and Company under
the leadership of John Hardman Powell
from 1867 to 1895

Mathé Shepheard




The stained glass of John Hardman & Co. is considered herein mainly from an iconographical point of view, with the focus on the period from 1867 up to 1895. The work during this period reflects attitudes beginning to change by 1867: the debate on Darwin's On the Origin of Species was beginning to modify the Anglican Church's teachings – there was less emphasis on suffering, more compassion, a greater social conscience, a gentler message, involving some appeal to Victorian sentimentality.

The study explores the quality of Hardman's work and the relationships the firm enjoyed with architects and clients which were, in many cases long-lasting. John Hardman Powell's was the key role. A pupil of Pugin, he took over as Artistic Head of the firm after A. W. N. Pugin's death. He was talented and deeply religious, a Roman Catholic like Pugin and his fellow partners in Hardman. Correspondence indicates a personal relationship with Cardinal Newman, some traces of whose influence can be seen in the scriptural interpretations in the glass. Powell travelled in Europe to study stained glass and other sacred art. His work shows a fine discrimination between Anglican and Catholic doctrinal and spiritual positions, the windows designed under his leadership carefully respecting them. Under him the firm enjoyed numerous commissions with most leading architects including Scott, Street and Woodyer.

By examining the firm's output it becomes evident that the windows were individually designed with no repeats, that the knowledge of scripture and use of Christian symbolism allowed the glass to project deeply spiritual messages and that it was aesthetically pleasing to clients who often expressed their appreciation in handsome terms.

This version of the study, designed specifically with a view to computer screen display, is presented in three volumes as three PDF files which can be downloaded below:
Volume I text (3.4 Mbytes)
Volume II Plates 1–54 (21 Mbytes)
Volume III Plates 55–101 (18.5 Mbytes)

The author may be contacted by e-mail at


matheshepheard@mac.com


Appendix 3 of Vol.I provides some suggestions for screen display using Adobe Reader™ or MacOS X Preview.


---