Edited by Robert Blackmore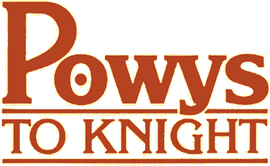 The Letters of John Cowper Powys
to G.R. Wilson Knight

Professor Wilson Knight had bought a copy of John Cowper Powys's novel A Glastonbury Romance when it first appeared in 1933. Intimidated by its length and challenging contents, however, he put it aside for several years and when he eventually read the book Knight believed that it was 'perhaps the greatest work of our generation'. Looking back he recalled being 'overpowered by its beauty and splendour of writing, its range of sexual and mystical insights, its occult perceptions, and above all by Mr Evans's sadistic obsession', which had a personal interest for him. Shortly afterwards, the actor-professor-critic, then in his late thirties, caught up by the insights he found in Powys's great novel during a crucial period in his own inner development, initiated this remarkable correspondence with the author he was not to meet till many years later.





Powys cast himself in various roles for his numerous correspondents. His early letters to Knight show him playing for an academic audience, later ranging over the subjects that concern literate men of any age, country or persuasion, with the emphasis always on the positive and the creative. Among the many hundreds of people to whom Powys wrote — he is thought to have written upwards of 40,000 letters during his long life — Knight proved an ideal correspondent in many ways. In Neglected Powers, speaking of the possible publication of the fifty letters he received from Powys, Wilson Knight said, 'It is my wish that, if published, they should appear only as a complete and unexpurgated set', but excerpts from the letters were printed in several books and journals over the years, provoking, always, a wide range of responses. In Powys to Knight, Professor Robert Blackmore fulfils Knight's wish, bringing together for the first time the entire correspondence, everything that Powys wrote to Knight about literature, death, second childhood and — at the centre of the controversy — masturbation.