Some hotels


My hotels, of course, were often in the very centre of their cities, and so I was frequently pretty exhausted - for I never would take trolleys - by the time I returned from these walks. But such was my power of enjoying the most delapidated specimens of grass, or moss, or plants, or trees, or shrubs, or old walls, or vistas of roadway, or bridges over rivers, or wharf-sides, or tow-paths, or cobble-stones, or stables, or chimneys with smoke coming out of them, that I often used, after my fashion, to be really happy as I explored the most unpromising environs. (Autobiography)
Among the many hotels where John Cowper stayed, here is a list of some of those mentioned in his letters or in the Autobiography:
| | | |
| --- | --- | --- |
| | The Tutwiler Hotel, Birmingham, Ala.- Mountain Inn, Fayetteville, Ark.- The Holly Hotel, Hollywood, Cal.- The Alexandria, Los Angeles, Cal.- Hotel Vista de Arroyo, Pasadena, Cal.- Hotel St. Francis, San Francisco, Cal.... | |
(Library of Congress, Prints and Photographs Division
Detroit Publishing Company Collection.)
The above two photographs show the Hotel St Francis after the 1906 earthquake and as it is today.
| | | |
| --- | --- | --- |
| | Hotel Victoria, San Francisco, Cal.... | |
(Hotel Victoria: Bush and Stockton streets. European or American plan. Rates, European, $1.00 to $2.50 a day; American, $3.50 to $5.00 a day. Dining room in connection. Caters to a tourist and family trade. Guide to San Francisco, 1914)

John Cowper stayed at this hotel from September 1922 to January 1923, at which time it was costing him $1.50 a day.
I shall be very glad to be out of this hotel where all the employees look at me for tips I cannot afford to give them. I suppose I present myself as the stingiest guest they have ever known - my only friends are the lift-boys who are, for some reason, very nice and unexacting. The waitresses in the breakfast room can hardly keep their hands off smacking my face, as I come sneaking into my unpaid-for-window-seat, (well! they've turned me out of that particular one now!) with a volume of Henry James and 'The Examiner'! (Hotel Victoria, San Francisco, 1 January, 1923, Letters to His Brother Llewelyn)
| | | |
| --- | --- | --- |
| | Hotel Alta Mira, Sausalito, Cal.- Holly Oaks Hotel, Sausalito, Cal.- Hotel Stockton, Stockton, Cal.- The Brown Palace Hotel, Denver, Col.- The Elton, Waterbury, Conn.- Auditorium Hotel, Chicago, Ill.- The Blackstone, Chicago, Ill.- Congress Hotel, Chicago, Ill.- Hotel del Prado, Chicago, Ill.- La Salle Hotel, Chicago, Ill.- The Stratford Hotel, Chicago, Ill.... | |
His life was not always very cheerful, he had fits of near depression at times:
Like an Incubus embracing a Succubus, Inert Misery and I sat cheek by jowl on the unmade bed of our room in the Hotel Stratford. Loving moments did we spend, lacing up and unlacing our boots, flattening our hooked noses against the window, staring at the grey horizon of the lake, reading the word "Gideon" upon the cover of the Black Bible, and looking at the word "Principessa" on my ancient bag, bought long ago in Verona for ten lira, which the bell-hop with sportive tact had chosen to place close to the spitoon.(Autobiography)
| | | |
| --- | --- | --- |
| | Hotel Pere Marquette, Peoria, Ill.- Hotel Mercury, Evansville, Ind.- The Anthony, Fort Wayne, Ind.- Claypool Hotel, Indianapolis, Ind.... | |
I was in the Claypool Hotel at Indianapolis; and I can now see the leather chairs of the old writing-room there and the deep capacious inkpots on the long tables at which the unwearied drummers wrote to their buyers, their employers and their girls.(Autobiography)
| | | |
| --- | --- | --- |
| | Hotel Severin, Indianapolis, Ind.- The Seelback, Louisville, Ky.- The Roosevelt, New Orleans, La.- The Washington Hotel, Shreveport, La.- The Belvedere, Baltimore, Md.- The Hotel Essex, Boston, Mass.- Hotel Touraine, Boston, Mass.- Book-Cadillac Hotel, Detroit, Mich.- Hotel Tuller, Detroit, Mich.- Hotel Pantlind, Grand Rapids, Mich.- Hotel Baltimore, Kansas City, Mo.- Hotel Muchlebach, Kansas City, Mo.- Hotel Statler, St Louis, Mo.- The Colonial, Springfield, Mo.- Malborough-Blenheim, Atlantic City, NJ.- Hotel Statler, Buffalo, NY.- Hotel Rochester, Rochester, NY.- Hotel Seneca, Rochester, NY.- The Rensselaer, Troy, NY.- Hotel Utica, Utica, NY.- Hotel Bancroft, Springfield, Ohio- Hotel Ohio, Youngstown, Ohio - The Rittenhouse, Philadelphia, Pa.- Fort Pitt Hotel, Pittsburgh, Pa.- Hotel Schenley, Pittsburgh, Penn.- The Lycoming Hotel, Williamsport, Pa.- Hotel Farragut, Knoxville, Tenn.- Hotel Chisca, Memphis, Tenn.- Hotel Peabody, Memphis, Tenn.- Hotel Hermitage, Nashville, Tenn.- Godwin Hotel, Denton, Texas- Monticello Hotel, Norfolk, Va.... | |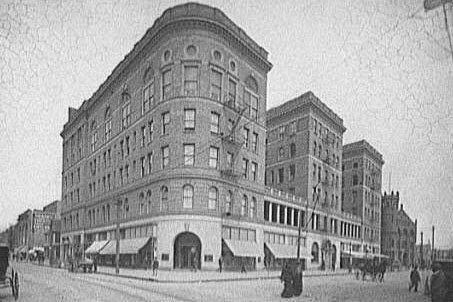 Monticello Hotel, Norfolk, Va.
(Library of Congress, Prints and Photographs Division, Detroit Publishing Company Collection.)
| | | |
| --- | --- | --- |
| | Hotel Charlton, Wellsburg, W. Va.- Hotel Windsor, Wheeling, W. Va.- Hotel Lorraine, Madison, Wis.... | |
---